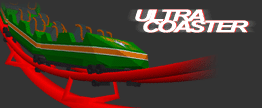 Screenshots
Features
Full Virtual Reality Roller Coaster
A Standalone Interactive Roller Coaster and Screensaver
First Person View Control via Mouse
7 Coasters Included!
Surround Sound
Dynamic Level of Detail
True Curved Surfaces for realistic world
Direct 3D Hardware Accelerator Required
UltraCoaster Creator/Editor Included FREE
Integrated UltraCoaster Library Manager
True-Gravity Physics
Options Control
Sound
Level of Detail
Shadow Detail
Pick your seat
View Selection [On-Board, External]
Display Driver and property selection
Single Downloadable Self-extracting .exe File
Bonus tracks to be posted online regularly
UltraCoaster Creator/Editor
Unlimited expandability
Full 3D rotational view controls
Create track segments, Link, and extend into 3D space
Special track segment types (Station, Lift Hill, Launcher, Brakes)
Select Track color
Automatic Track Supports Placement
Special Control Point Editor
Automatic Sound Creation and Placement
Save, Edit, and Test Ride the track while you build it
UltraCoaster Library Manager
Copy, Rename, Edit, Delete Coasters in Your Coaster-Set
Share, Import, and Improve Any Coaster
UltraCoaster Screensaver
Full Capabilities of standalone operation in screensaver mode
What are the system requirements?
Processor: 1.2 GHz Processor
OS: Windows, 2000/XP/Me/98
Graphic card: DirectX 7 level graphics card or better
Hard Drive: 1.0 GB
Memory: 256 MB RAM
Download the Demo
Of course in the demo you won't be allowed to create your own tracks, and only one trip will be allowed....
Buy Full Version
Unlimited possibilities, track editor, skins, trading post. Well worth it. Secure download from our friends at

. Now also accepting PayPal.
About us:
Reactor Software is an independent game development company with offices in Los Angeles, CA and Boston, MA. We specialize in products that allow our users to exercise their creativity. We believe that there is more to digital entertainment than traditional format games.