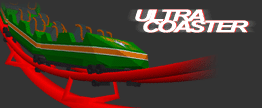 Full Version Patch
If you have the full version, and screensaver mode doesn't seem to work properly, you can download the screensaver patch which will fix this problem. Simply unzip the patch to your "Ultra Coaster\saver" directory, overwriting the existing file. You'll need Winzip if you don't already have it. Note that this is only for the full version. The demo does not have the screensaver feature
Known Issues
Please make sure Ultra Coaster works properly on your system before ordering it! The demo is the perfect indicator of system compatibility. The known issues surface immediately, so if you don't see any problems, even the ones listed here, you're good to go.

Rainbow colors on the title screen/strange video glitches - (less than 1% of machines)
Make sure all your video drivers are current.

Mouse pointer not showing up on the title screen - (less than .2% of machines)
A few reports of this bug have surfaced, and haven't been traced back to a source yet.
Email Us!
We always like to hear from our customers. If you have any questions, thoughts, or ideas you can send them to info@reactorsoftware.com. If you find bugs or incompatibilities, send descriptions to bugs@reactorsoftware.com.
Download the Demo
Of course in the demo you won't be allowed to create your own tracks, and only one trip will be allowed....
Buy Full Version
Unlimited possibilities, track editor, skins, trading post. Well worth it. Secure download from our friends at

. Now also accepting PayPal.
About us:
Reactor Software is an independent game development company with offices in Los Angeles, CA and Boston, MA. We specialize in products that allow our users to exercise their creativity. We believe that there is more to digital entertainment than traditional format games.